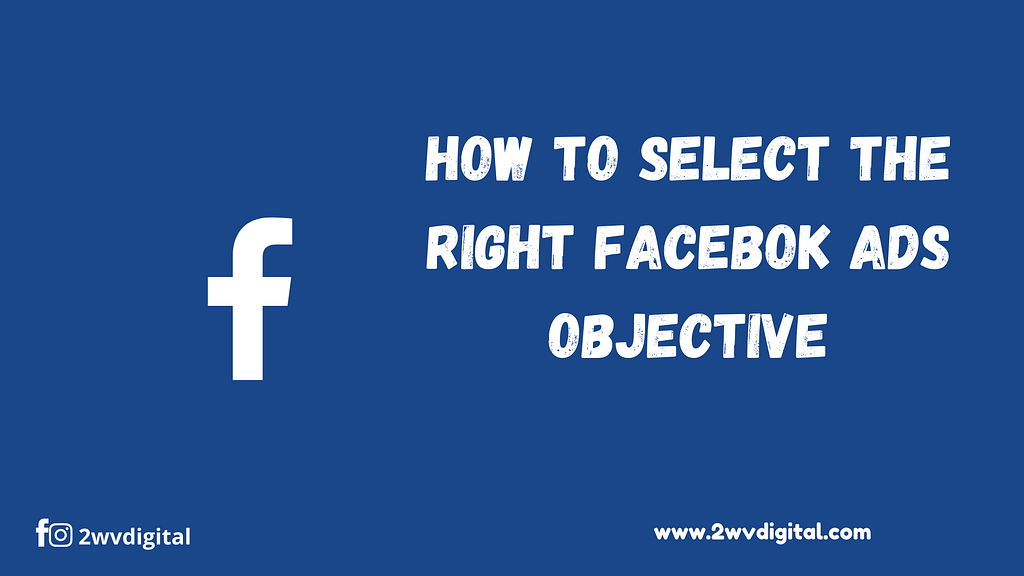 What You Should Know About Facebook Ads Objective
The Facebook ads objective is one of the major determinant of success in Facebook ad campaigns, a wrong campaign objective will lead to wrong result and waste of your ad spend. With over 2.5 billion monthly active users (MAU) Facebook no doubt is a veritable platform for businesses to reach more customers, increase brand awareness and generate more revenue.
Therefore, every business owner must take advantage of Facebook ads to achieve growth, the common problem with advertisers is in selecting the wrong campaign objective and this in turn lead to unwanted result and the worst of all, a wasted ad spend.
So as a business owner, how can you choose the right objective when advertising in order to boost your chances of getting your desired result with Facebook ads? In this article, I will reveal to you how to always select the right objective when advertising on Facebook.
What is Facebook ads objective?
Facebook ads objective is what you want to achieve when you are advertising on Facebook (eg; increase brand awareness,drive traffic to your website or blog/landing page, increase sales in your online store etc), by defining what your Facebook campaign objective is, Facebook will optimize your campaign to help you get the result you want.
Importance of Facebook Ads objective!
When it comes to Facebook ads, the failure or success is often an issue of a wrong or right objective and that is why Facebook will prompt you to choose an objective before proceeding to set up the rest of your campaign. This shows that your campaign is built on an objective much like a foundation.
A Facebook ad objective determines how you set up your campaign, some objectives will allow you to run your campign on the Facebook platform while others will require you to send people to a destination from Facebook.
When you advertise on Facebook, you will be provided with an option to further optimize your campaign, like optimizing for clicks, landing page views with a traffic objective or optimizing for purchase or add to cart with a conversion objective, this optimizing options will actually take you closer to getting the result you want.
Some objectives will require you to pay more in order to get the result you want, for example; the conversion, store visits and traffic objective based campaigns are often expensive to run.
Facebook ads objective you should know
Facebook has 11 campaign objectives which are further divided into 3 broad categories of Awareness, Consideration and Conversion
No matter what you want to achieve, there is surely an objective that aligns with your business goal, all you need to do is to select the one that is right for you.
Let us go through each objective including how and when to select them
Brand Awareness
The brand awareness objective is focusing on reaching new customers to introduce to your brand and/or improving brand awareness with users who are already familiar with you. They're excellent for beginning-of-the-funnel campaigns where the goal is to reach customers and start to make an impression. You can still try to promote your product and you may seem sales, but that's not necessarily what you're optimizing for.
Here are few things to consider when choosing this objective:
Facebook will limit you to just one optimization option and that is ad recall lift. With this option, Facebook will show your ad to those most likely to remember seeing your ad which will boost your ad recall and create awareness for your brand.
You can only optimize for just one bidding strategy and that is lowest bid cost, this is to help you get result at the lowest cost possible.Note that you can't optimize for other bid strategies.
You will get charged by impressions, you will pay each time your ad is shown to at least 1000 people.
Reach
If you want your ad to be seen by as many people as possible, then this is the right objective for you.With this objective Facebook will show your ad to as many people as possible within your target audience.
The point to note here is that this objective works best with a large audience, if you have a small audience, you may need to go for other objectives that is specific to your goal.
Key takeaways to consider:
Since your goal is to show ad to as many people as possible, this objective is only good for a large audience and not a small or niche audience.
You can choose to optimize for either impressions (getting more views) or reach which is to show it to as many people as possible. Reach is the best option here so that you can keep your ad frequency low and reach high.
You will be charged for impressions irrespective of what you optimized for.
Traffic
This is the right option for you if your goal is to send people your audience to a destination on or off Facebook. The destination can be your website/landing page, WhatsApp, Messenger, or App.
Your goal here is to send them to your desired destination to complete a particular task you want such as; registering for your webinar, signing up for your newsletter, download an eBook or your mobile app,send you a message through Messenger and many more.
Things to note here:
If you are sending people to your website, make sure the content matches your ad in order to prevent high bounce rate or Facebook rejecting your ad.
You have four different options for optimizations including: Landing page reviews,link clicks,unique daily reach and impressions. The landing page views optimization is always the most preferred option because it let you know how many people click on your ad and land on your page and what they actually do on the page.
You will be charged for impressions or link clicks depending on what you optimize for.
App Installs
Does your business have a mobile app? you can send your customers to either Google play store or apple app store to download it and take the action you want inside the app.
You can also retarget those who visited your app by creating a custom audience based on your app users.
The key takeaways here are:
If you want to retarget those who visited your app, you must first of all create and install the Facebook pixel in your app to track the activities of users click here to learn more
You can optimize for apps installs (recommended option), retention,link clicks,app events and 10 second video views.
You will get charged depending on what you optimized for.
Video Views
Videos are proven to always command high engagement because it explains more about a product or service, though it is an objective on it's own,it can still be used as an ad creative at any stage of your customers journey.
Here the optimization is based on the length of actual video views, the trick is to ensure your video is short and relevant and you can optimize to get your video watch for 15 seconds or less or 10 seconds. The good thing is that you can retarget your users based on the percentage of the video views, always aim for 50% and more.
You will get charged for impressions or length of video views.
Lead Generation
The lead generation objective allows you to get contact information of your audience in order to build your customer list,unlike before where you need to send people to a website or landing page just to get their details, the lead gen objective allows you to optimize your ad in order to get as many leads as possible without leaving Facebook.
With the lead gen ad, Facebook will show your ad to people who will click on a pre built form where their details are already filled up and all the need to do is click and confirm.
To encourage people to provide their contact details, you must offer something of value and of high quality. This can be an eBook download,free consultation, a coupon,voucher, free shipping and many more.
You can optimize for leads which will allow Facebook to help you get many leads as possible.
Messages
This is a new objective that allows you to take people to a messaging platform to have a conversion with them either on Messenger or WhatsApp, where they get to learn more about your business allowing you to overcome any objection they might have, offer products or service recommendations and increase the likelihood of a sale happening.
You will have the option of optimizing for replies or leads and only pay for impressions.
Engagement
This objective is best if you want people to engage with your post (likes,comment and shares), Facebook page (page likes), respond to your event and claim your offer.
This objective is to get people to:
Like, comment and shares on your post, thereby helping you to gain visibility.
Increase likes for your Facebook business page
Encourage people to attend your event
And increase claims for your offer on Facebook
You can choose to optimize for post engagement, page likes, impressions and unique daily reach, it all depends on the action you want to achieve.
You will get charged for impressions.
Conversions
Are you trying to optimize for a very, very specific type of conversion? Sales, email newsletter sign-ups, registering for a course or an event? Each of these actions counts as a conversion, and this objective can help you accomplish your goals.
Here is what to keep in mind:
Make sure you're optimizing for the right conversion event. You set this up through the pixel.
You can add offers to these campaigns.
You can bid on conversions, link clicks, impressions, daily unique reach, and more. When you choose "conversions," you can choose the attribution window. 7 days is the standard, and it's a good one to stick with because attribution can be tricky.
If you optimize for conversions, you'll pay based on impressions.
Catalog Sales
With this objective,you show your ad to people based on the product they viewed or engaged with in your website or online store in order to drive a sale.
You'll immediately notice that the audience targeting is different for this campaign, with a heavier focus on what ads to show to which customers. These are dynamic ads, after all, so Facebook lets you decide what would be most beneficial, including upselling and cross-selling.
Here's the other differences you should know:
You can optimize for link clicks, conversion events, or impressions.
You can set a bid cap.
You can be charged on impressions or link clicks.
Store Visits
If you have an offline or a brick and mortar store,this objective allows you to drive foot traffic to your store and increase sales.
This is good for businesses with multiple locations, branches or a business with several smaller companies.
Here is what to keep in mind with this objective:
You can add map cards which users can click to know where your store is in relation to them.
There are several systems of measurement in place that Facebook uses to attempt to track how accurate your ad campaigns are. This includes the "People Nearby Who Saw Your Ads," which will appear in your Page Insights.
The best option for optimization is the "store visit optimization," which is exclusive to this objective. It ensures that your ad is shown to users most likely to go visit your store in person.
Conclusion
Choosing the right Facebook ads objective will definitely have a positive impacts on your ad campaign, each time you want to run ads on Facebook always ensure you choose the objective that best align with your business goal and if you are not sure of the right one to choose,run a split test,this will help you discover what is best for your audience.
You must decide on your objective before your campaign, another thing to have before your campaign is your strategy and a good one is always the difference between success and failure with Facebook ads.
Do you need help acquiring more customers and generating revenue with Facebook and Instagram ads? click here to send us message and get a free consultation with a proposal or call us on +2349060474086. Let us work together to grow your business.
Which of the Facebook objectives is right for you or which one do you use frequently? you can discuss with in the comment section below.