Affiliate Disclosure; Dear reader, the article on this page contains affiliate links and if you click through and make buy a product, we earn a small commission at no extra cost to you.
Starting your own dropshipping business in Nigeria can be rewarding and profitable because it comes with time and financial freedom and you can work from home.
Starting on aliexpress is one of the best ways to kickstart your dropshipping business as it will give you access hundreds of suppliers and thousands of products in trending niches which you can import to your store and start selling immediately.
Dropshipping is becoming popular in Nigeria as more people want to make money online especially with the rising unemployment rate and also due to the effect of the Covid19.
How Does Dropshipping Work
Unlike traditional eCommerce that involves you keeping hundreds or thousands of products in inventory and shipping to your customers each time you get a sale, Dropshipping on the other hand is a business model where store owners like you rely on suppliers to package and ship the product to your customers each time you get a sale. The image below tries to explain better: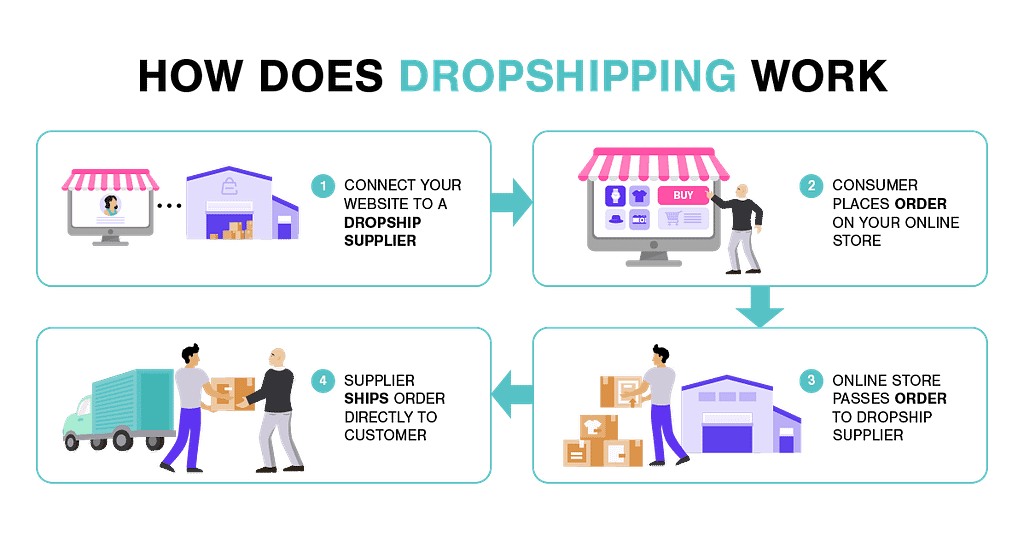 As a store owner in drop shipping you must understand that your major duty is to be driving traffic of willing buyers to your website and if they make a purchase, you simply inform the supplier or manufacturer with necessary order details and He or She will handle the rest including delivering to your buyers doorstep.
Aliexpress Dropshipping: What you must know
The best way to start drop shipping on Aliexpress is not by manually importing products to your store and sending order details to your supplier, this can be time consuming and will not bring the freedom you desire.
The recommended method is to use a plugin or software for a one click products import to your store including the products descriptions, title, images, reviews and more.
With a plugin, it will be easy to integrate your store with Aliexpress and also connect with your supplier making it possible to automatically send order info to your supplier for shipment to your customers.
There are many dropshipping tools out there, but the one we use and always recommend is Alidropship plugin
For a one time payment of $89 you will be able to install it on your website, import as many aliexpress products as possible in one click including all details as stated above. This plugin will also enable you to automate order transfer and that simply means when you get a sale on your store, you will be able to transfer every detail to your supplier or manufacturer.
And the good news is that when you buy the alidropship plugin, you will have access to import 50 free products to your store in a given niche of your choice.
You will also be given free access to a database of hundreds of reliable suppliers already vetted and verified by the Alidropship team and they can be found in different niches selling various products.
Their store address is visible so that you can visit and know more about them including number of years in business, ratings and customer reviews before you finally decide on those to partner with.
How to Start Drop Shipping
Do Your Market Research
You need to know the products people are actively buying online and in Nigeria you can find hot products in different niches like:
Kitchen/Homeware
Fashion and Accessories
Wearable and Wireless Devices
Car Accessories
Electronic Devices: Smartphones, Laptops, Powerbanks
Sports and Fitness
All these are broad, you will still find sub categories with various niches containing many hot products.
You can quickly do a search on Jumia to know if there are available and how popular these products are and then go to Aliexpress to import to your store. If the products you want to sell are on Jumia with lot of buyers, then it is obvious it will be a good addition to your store and you will make more money since you will get it cheaper on Aliexpress.
Get Domain and Web Hosting
To get your drop shipping store online, you must have both domain and hosting.
A domain will be the name of your website which normally cost between $10 to $15 annually and while web hosting can cost close to $48 annually. Together, these can be too much for a new a store .
And the good news is that, Bluehost is offering to register a domain for you free for one year but you must purchase a web hosting which is quite affordable and their offer one click WordPress install. This will save you some money.
For your website to be fully ready, you must install WordPress.
After purchasing web hosting package from Bluehost, you will receive login details to your cpanel through an email.
You must login to your cpanel dashboard, get down to the website section and click on the Install WordPress button
Install Alidropship Plugin
To turn your website to a full and functioning drop shipping store, you must install and activate the Alidropship plugin on your website
Watch the video below to learn more about the plugin and the installation process:
The alidropship plugin is the best way to run your drop shipping store and it works with aliexpress
It will enable you to connect your store to the aliexpress marketplace, import products in one click including images, descriptions, titles, reviews and automate order fulfillment.
Core Features of the Alidropship Plugin
One Click Install: Import aliexpress products in one click to your store including all necessary details like products descriptions, images/videos, titles and reviews
Free 50 Products: The plugin comes with access to import free 50 products in any niche of your choice.
Complete Store Management: Take care of everything from managing inventory, pricing, products updating, order fulfillment and more.
Integrations: Get access to different marketing tools and materials to help grow your store and generate more sales.
How to Drive Traffic to Your Store
There are two main traffic sources for your store and they includes Organic and Paid sources:
Organic Traffic Source: Get quality traffic by optimizing your website to show up on search engines like Google, engage your audience with quality blog content. Identify the right social media platforms for your business and because you are in drop shipping, Facebook, Instagram, Pinterest and Twitter. Create the right content to engage and keep your brand on top the mind of your audience. respond faster to customer issues and monitor to know what is trending in your industry.
2. Paid Traffic Sources: To get faster result, you can utilize paid adverts on Platforms like Google, Facebook, Instagram and Twitter, this will enable you to get sales faster than when you rely only organic marketing.
In Conclusion
Drop shipping remains one of the best online businesses you can start now and beyond and there is no better time to start than now most especially due to the continuous impacts of the Covid19 which has led many people around the world to embrace online shopping in order to maintain social distance.
With more buyers going online, it's high time you start your own drop shipping business
Starting your own successful aliexpress dropshipping business is now made easy with the Alidropship Plugin
Related Article: Start your dropshipping business with Alidropship Plugin